10 Apr 2019
Football Pitch Size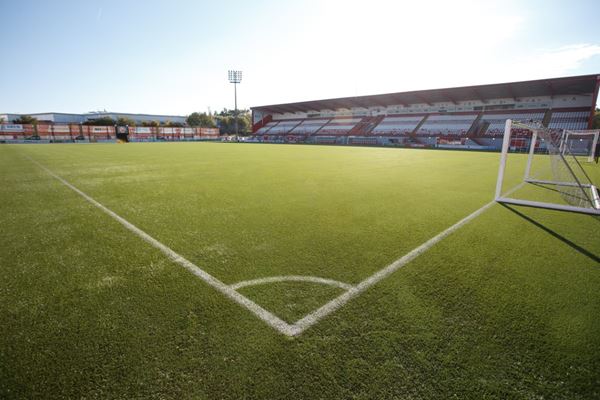 When considering the installation of a new 3G football pitch, it is important to consider the dimensions for the type of play you require to take place on the surface.
The FA recommended pitch sizes for a full-sized football match to take place are 100m x 64m (excluding run offs) and 106m x 70m (including run offs). However, you may not have the space at your facility to accommodate this and may instead consider a smaller surface area. Another option to maximise the playing area is to accommodate cross play via line markings, this enables additional revenue to be gained by hiring the pitch out to different groups of people all playing smaller matches simultaneously on the same pitch.
The table below highlights the FA recommended football pitch sizes for varying sizes and levels of play:
THE FA RECOMMENDED PITCH SIZES

AGE GROUP

TYPE

SIZE EXC RUN OFFS

(LENGTH x WIDTH)

SIZE INC RUN OFFS

(LENGTH x WIDTH)

Mini football (U7/U8)

5 v 5

37 x 27

43 x 33

Mini football (U9/U10)

7 v 7

55 x 37

61 x 43

Youth (U11/U12)

9 v 9

73 x 46

79 x 52

Youth (U13/U14)

11 v 11

82 x 50

88 x 56

Youth (U15/U16)

11 v 11

91 x 55

97 x 61

Youth (U17/U18)

11 v 11

100 x 64

106 x 70

Over 18 (Senior)

11 v 11

100 x 64

106 x 70
Click here for more information.

It is important to note that if you are a football club competing at non-league level or above then cross play markings are possible but it is preferable that these are painted rather than cut in to ensure that the cross play lines are secondary and not as prominent as the main playing area. Painting the cross play lines as opposed to cutting them in to the carpet also means that if in the future cross play is no longer required these will eventually wear off and you will be left with the main full size cut in line markings.