29 Nov 2016
Day of Celebrations to Mark New Pitch at Brooklands Hockey Club
Trafford based hockey club, Brooklands have opened their new GreenFields pitch in style with a day of celebrations.
With appearances from the Mayor of Trafford and two GB Olympic Hockey Gold Medallists- Nicola White and Martyn Grimley the day was one to be remembered for aspirational young hockey players.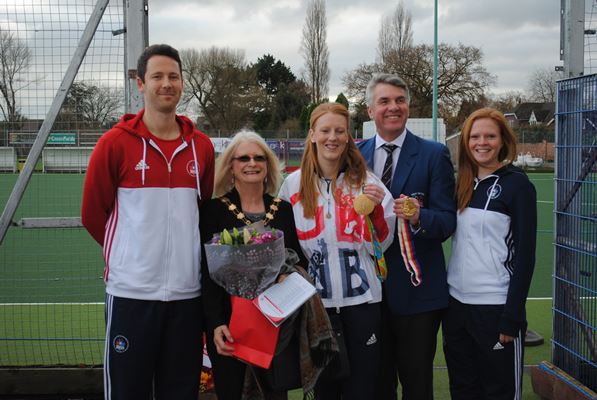 The club have plenty of reason to celebrate as their new water based hockey pitch is an elite surface, with praise from professional players around the world as well as being the official playing surface at the 2014 Hockey World Cup. During a recent match Vs Holcombe, one of the Team GB Olympic Champions spoke of the pitch as "the best surface I've played on all year," an impressive statement considering the level she plays at and that this includes the hockey pitches at the Olympic Games.
The GreenFields TX water based pitch now up and running at the club is the same genre of surface used at the recent Olympics and Brooklands couldn't be happier with how it plays for them.
"We now have an international standard, world class pitch; the look, feel and playability are exceptional."

Mark Bateman, Director of Hockey, Brooklands HC
TX is designed to ensure accurate ball control, ball roll and speed, and low ball friction characteristics in both wet and dry conditions. Water based hockey pitches are defined by the FIH (International Hockey Federation) as the optimum surface for competitive tournaments. GreenFields TX is designed to provide excellent sliding opportunities, and a uniform performance throughout the year.
Paul Milton, Commercial Director at GreenFields added: "TX water based pitches have been installed globally but we couldn't be happier to have a water based pitch of this calibre on our doorstep and hope the club have a successful competitive year on their new surface."