17 Oct 2018
Centre of Excellence Opts for Excellent Pitch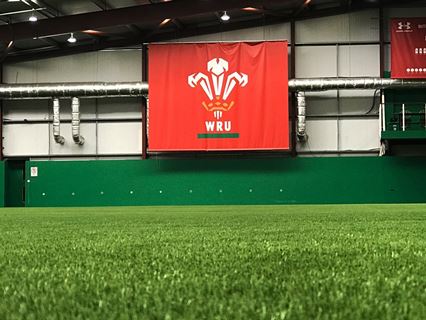 The Welsh Rugby Union (WRU) National Centre of Excellence, a high-spec training facility for Welsh players at every level have handpicked a GreenFields elite woven surface for their new indoor training pitch.
The product of choice was an exclusive woven surface- GreenFields MX Elite 60 selected for its superior playing characteristics combined with the ultimate in resilience ensuring it is perfect to cope with the high intensity daily training that takes place at the WRU.
Completed back in Summer 2017, the players have now had just over a year to fully utilise the pitch and both players and coaches alike are thrilled with their enhanced training facility.
"The WRU National Centre of Excellence now has a playing surface of an elite standard complying with World Rugby's Regulation 22 testing criteria. We are delighted with our new surface that has and will continue to support all of our International Pathway teams."

Alan Phillips, National Team Manager, Welsh Rugby Union Group
GreenFields also installed a tufted product- GreenFields Slide Max Elite 60 into one of the centres scrum areas to support the heavy impact these areas take as well as offering a unique insight for our own R & D team as to the performance characteristics of the surface when faced with heavy duty daily play.
Mark Bucknall, Operations Manager for GreenFields commented on the facility: "We are delighted to have our premium product in situ at the WRU, such a facility requires a product that will stand up to the high daily impact and the woven nature of MX makes it ideal."
GreenFields MX utilises patented woven technology resulting in a high tuft bind which forces the fibres to stand even straighter and more closely resemble natural grass. The WRU's Centre of Excellence further strengthens the portfolio of leading facilities where GreenFields MX is installed across the globe.