6 Nov 2018
GreenFields Partners with Fylde Hockey Club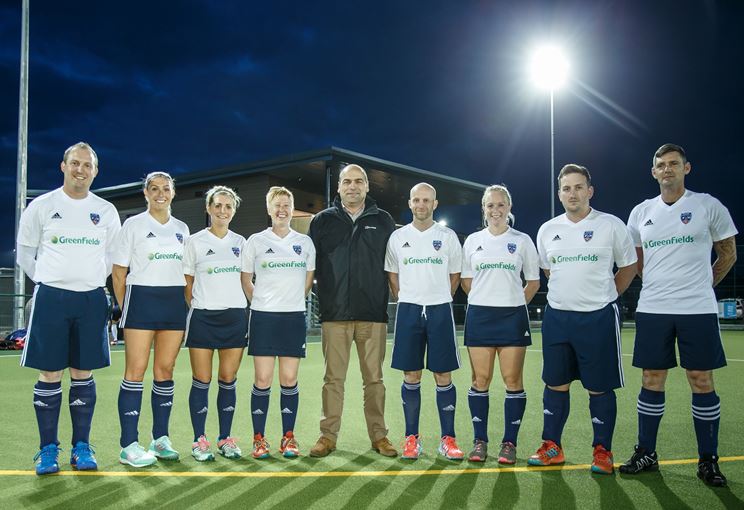 With the multi-million pound synthetic pitch development now complete at Fylde Sports and Education Centre based at Mill Farm (Wesham), GreenFields have committed to a sponsorship agreement with Fylde Hockey Club for the current playing season.
The focal point of the partnership is the inclusion of GreenFields branding on the team shirt now worn by both men and women in all nine Fylde Hockey Club teams as well as a number of junior teams. The new sand dressed hockey pitch also has perimeter GreenFields advertising boards and the team website includes a link to GreenFields.
The cutting-edge sports pitch complex is also home to rising National League football team, AFC Fylde and houses a state-of-the-art 6,000-seater stadium as well as Fylde Hockey Club's full-sized sand dressed hockey pitch, a full sized 3G football pitch and six 7-a-side football pitches all manufactured and constructed by GreenFields.
"GreenFields are committed to developing long lasting relationships with the clubs we work with and supporting community and sporting initiatives. We are proud to be supporting Fylde Hockey Club and giving something back to the world of sports."

Paul Milton, Commercial Director, GreenFields
To further support the club, GreenFields recently arranged for professional photography to be taken of both a hockey match in progress as well as empty pitch shots which can be fully utilised by Fylde Hockey Club in their marketing materials.
Fylde Hockey Club Chairmen, Chris Hills commented: "At Fylde Hockey Club we recognise that one of the keys to our success to date has been the quality of our coaching. In an increasingly competitive sport we need to ensure that we continually improve. Our sponsorship with GreenFields is being used to bring in the best possible coaches for our performance teams, and to further develop coaches from within the club. Together with our fantastic new pitch, clubhouse, and grandstand, we are already reaping the rewards by attracting good new players to the club."