10 Jul 2018
GreenFields Start Work on 3G Pitch at EVO STIK NPL Club, Buxton FC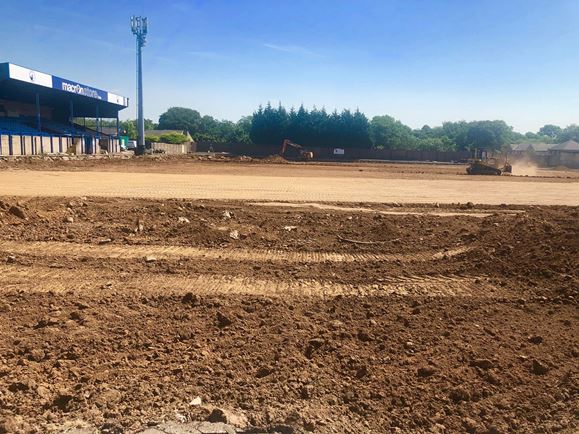 EVO-STIK Northern Premier League Club, Buxton FC have become the latest NPL club to select official league pitch partners, GreenFields for the installation of their new 3G pitch.
The club have followed in the footsteps of fellow NPL club, Hyde United FC by selecting a high-tech woven product- GreenFields MX Elite, a product also in situ at a number of professional stadiums and training facilities across the UK including: Arsenal FC Academy, Falkirk FC, Charlton Athletic Academy and the Scottish National Performance Centre, Oriam. GreenFields MX Elite benefits from patented woven technology resulting in an extremely high tuft bind. This forces the fibres to stand straighter providing a more natural playing experience and visual appearance.
"Following the success of the GreenFields project with Hyde United, and in particular in terms of the playing surface and what it has done for both the club and the community, it is easy to see why Buxton have now also chosen that path. The EVO-STIK Northern Premier League is highly delighted with the working relationship that GreenFields has established in supporting and working with the member clubs and of course the League itself."

Mark Harris, Chairman, EVO-STIK Northern Premier League
Spurred on by the demand for increased community participation in the area paired with the need to reduce cancelled fixtures and maintain match revenue, Buxton FC made their decision to convert from a natural grass pitch to a 3G surface, with the installation due to be complete in August as the new season begins.
Robert Turner, Club Secretary at Buxton FC commented: "When we made the decision that we were going with a new 3G pitch we spoke to many clubs who had already got a 3G to get advice. When we saw the surface at Hyde United FC we were blown away with how natural and realistic their playing surface was. We did have meetings with our fans at the start to get comment. Mostly this was positive but we did have some fans who were sceptical, so we put them a bus on and took them all to Hyde! They too saw what we saw on our initial visit and some of them actually had to go and touch the pitch to prove to themselves that it wasn't real grass! From this point on we knew that our new surface had to be like the one at Hyde manufactured and installed by GreenFields".
As official pitch partner to the EVO-STIK NPL, GreenFields have an ongoing relationship with both the league and member clubs and are committed to providing and advising on surface solutions as well as supporting clubs with all of their natural grass related queries.
Paul Milton, Director at GreenFields added: "We are proud to be working alongside another club within the EVO-STIK NPL and are 100% committed to supporting clubs within this league. We look forward to continuing our relationship with Buxton FC after their new pitch is complete and watching how they progress within the league over the coming years."
The completed pitch will be tested to both FIFA Quality and World Rugby performance standards as the pitch has been designed as a dual use facility to accommodate rugby as well as football as part of a ground share arrangement with local club, Buxton RUFC.