18 Jan 2019
Dream of International Level Hockey Surface Achieved at Top School, Manchester Grammar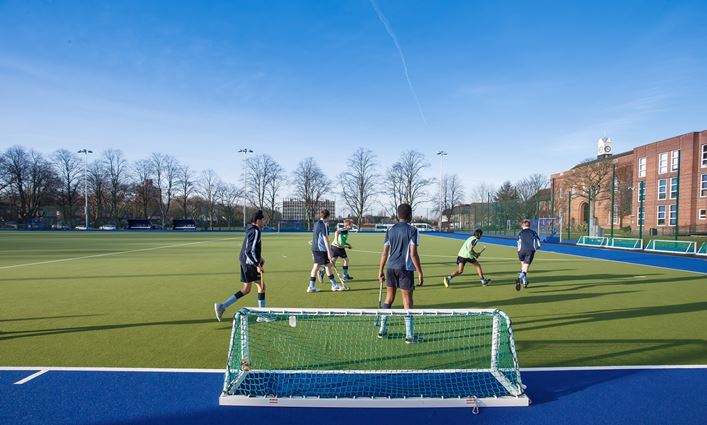 Staff and students at The Manchester Grammar School, the largest independent day school for boys in the UK, are over the moon after many years of planning has seen their dreams for an elite hockey pitch become a reality. GreenFields were handpicked from a number of other companies for the construction of the school's new hockey pitch along with adjacent tennis courts, which were all completed in time for Christmas.
"The new hockey pitch and tennis courts are absolutely fantastic and will give our boys the opportunity to play on world-class surfaces of the quality used by international athletes, helping our boys flourish and develop their sporting potential. They are a great addition to our School."

Dr Martin Boulton, High Master, The Manchester Grammar School
The top spec water based hockey pitch features GreenFields TX Elite, a product which has seen many of the best players in the world compete on it at tournaments such as the 2017 European Hockey World Championship. Classified by the FIH (International Hockey Federation) as the Global standard, an optimum surface for competitive hockey tournaments, GreenFields TX Elite provides the ultimate smooth playing surface combining high playing and ball speed, incredible precision and control.
The 6,576m² elite hockey pitch was completed with a Trocellen ProGame XC 7008 shock pad for maximum comfort and safety with irrigation achieved by pop up sprinklers. The facility also includes a 3,560m² tennis surface featuring six compact courts.
Paul Milton, Commercial Director at GreenFields UK said: "We are delighted to have installed an international level water based playing surface at the prestigious independent school - The Manchester Grammar School and are happy to see that the pupils are getting full use of it already. This impressive sports facility will further strengthen our North West portfolio providing an elite case study for GreenFields for the future."
Upon completion of the new hockey pitch and tennis courts, GreenFields arranged for professional photography and drone footage to be taken to support the school in their marketing materials.