Case story
Bury Grammar School
Bury, UK
Location: Bury, UK
Product: MX TriMension/ TX
Date: Summer 2016
Project Description:
Prestigious school- Bury Grammar School selected GreenFields to undertake their extensive multi surface sports development. The new facilities include a 79m x 52m 3G GreenFields MX TriMension pitch, a full size volleyball/basketball court along with four tennis courts to also be utilised for hockey (all GreenFields TX SD). To complete the project GreenFields installed a sprint track with long jump and triple jump facilities as well as an athletics track encompassing the volleyball/basketball court.
The school chose top spec turf products for their new pitches which are used by clubs around the world. TX SD was used for the 2014 Hockey World Cup and enhances accurate ball control, ball roll and speed, and low ball friction characteristics in both wet and dry conditions. MX TriMension is a high quality, durable product utilising the latest in weaving technology. All the facilities were fully fenced with floodlights, dugouts (3G only) and branded logo mats.
Watch the timelapse video above to see the process of the extensive development from start to finish or click here to view the drone footage we took following completion.
Richard Marshall
Former Headmaster
Bury Grammar School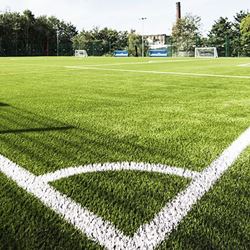 SIMON WILLIAMS
Director of Rugby
Bury Grammar School