Case story
Sharples School
Bolton, UK
Location: Bolton, UK
Product: GreenFields MS Pro 40
Date: Spring 2018
Project Description:
GreenFields completed their third project in Bolton in just over a year in Spring 2018. The 52m x 52m (2704m²) new surface has been installed as a MUGA (Multi Use Games Area) in order to enable different sports to be played on it.
The school chose GreenFields MS Pro 40- an all in one surface supporting both football and hockey for great value and performance. This product is ideal for dual use pitches as the fibres are short enough for a hockey ball to glide over and long enough for a game of football.
The new MUGA included the installation of a ProGame 070 008 Trocellen shock pad for maximum safety and comfort, when playing hockey in particular. The pitch also includes two sets of integral lines: white and yellow to enable multiple games to take place concurrently.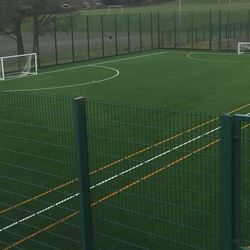 Nicola Podmore
Facilities Manager
Sharples School