Case story
Manchester Grammar School
Manchester, UK
Location: Manchester 
Product: GreenFields TX Elite 
Date: Winter 2018
Project Description:
Prestigious independent school, Manchester Grammar School selected GreenFields for the construction of their new hockey pitch and tennis courts. The 6,576m² water based hockey pitch features an olive green playing area with reflex blue run offs for maximum visual impact. GreenFields TX Elite was installed, a high spec water based product, which has also been used at a number of competitive tournaments worldwide including the 2017 European Hockey Championship and offers high speed, incredible precision and playing control.
The elite hockey pitch was completed with a Trocellen ProGame XC 7008 shock pad for maximum comfort and safety with irrigation achieved by pop up sprinklers. The facility also included a 3,560m² tennis surface featuring six compact courts. A full floodlighting system along with perimeter rebound fencing (2m) was installed at the facility with the hockey pitch also featuring internal ball stop fencing (1.1m). Fibretech team shelters provided the finishing touch and the completed hockey and tennis surfaces will now be tested to FIH (International Hockey Federation) Global Standard and ITF (International Tennis Federation) Standards respectively.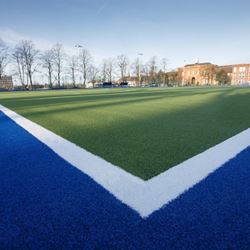 Dr Martin Boulton
High Master
Manchester Grammar School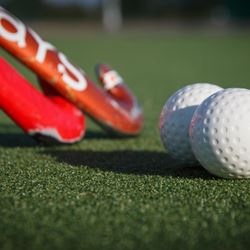 Mark Bateman
Former Senior International Player
Welsh Team