14 Feb 2019
What is a 3G Pitch?
If you are looking for an artificial sports pitch for your football or rugby club, school, college or university then a 3G pitch is your best option. A 3G pitch, or third generation artificial turf pitch (ATP) is made up of longer synthetic grass fibres (40mm-60mm) than the older second generation 2G pitches and offers a more weather resistant surface than a regular natural grass pitch. The longer fibres are filled with sand and performance infill, which is typically a recycled rubber option. There are many other performance infill options although they are generally more expensive. The purpose of the infill is to ensure that the turf fibres remain vertical and act as a cushion during play to maximise safety. 3G pitches can also be installed with a shock pad, which is a necessity if rugby is to be played to provide a safe surface and to meet World Rugby Regulation 22 performance and testing criteria. Shock pads can also be utilised to maximise comfort and safety for football pitches, but this isn't a necessity.
3G Pitch with Shock Pad Cross Sectional Drawing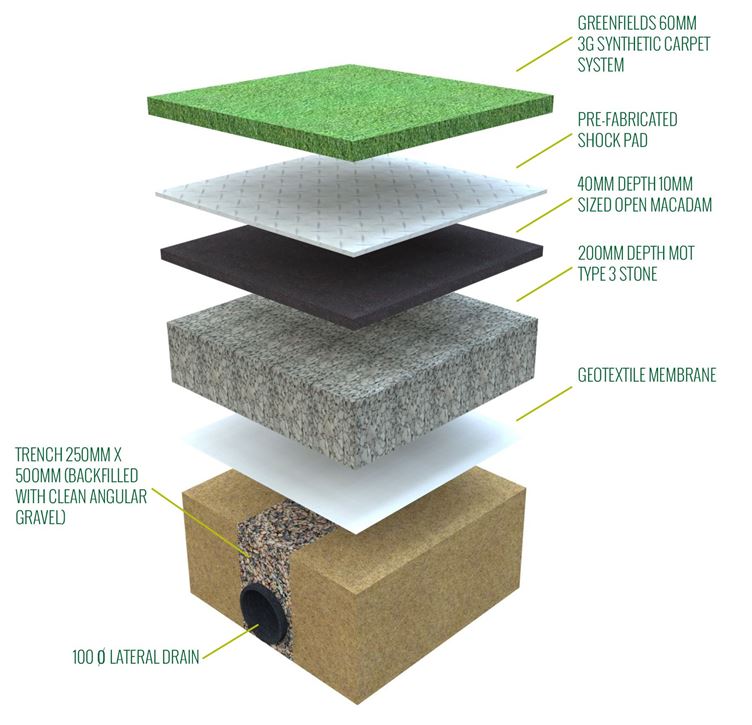 3G pitches have improved drastically over the years, our new high-tech woven systems are revolutionising 3G sports turf technology and pushing the boundaries from that of traditional tufting techniques offering unrivalled performance, strength and stability.

For further information and to discuss your sports surface options contact us now.