16 May 2018
GreenFields Support Avro FC as they Celebrate Promotion
Avro FC are celebrating after their first season on the GreenFields 3G pitch at the Vestacare Stadium sees them named Champions of the Manchester Football League (Level 11 in the English Football Pyramid). Next season will see the club play at Level 10 in the North West Counties First Division.
GreenFields pride ourselves on long lasting relationships with clubs and educational establishments working alongside them for years after their pitches are installed, and as a result of this we are supporting Avro FC as a sponsorship partner.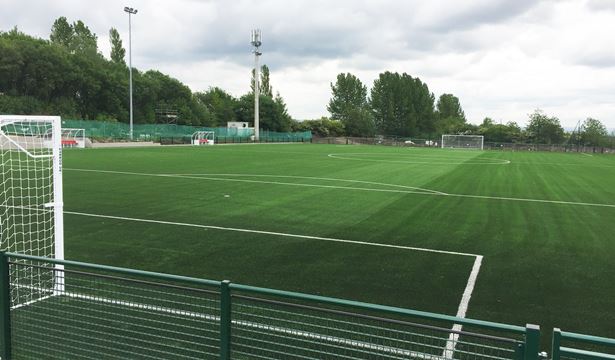 Louise Henderson, Marketing Manager at GreenFields UK commented: "It is important to us as a company to maintain long lasting relationships and be there for clubs after each installation. We are proud to support Avro FC and wish them good luck for next season in their new league!"
"We are really happy with the surface and the way it plays. We have received only positive comments regarding our surface with visiting teams expressing how impressed they are with the bounce and the way the ball runs naturally. We are delighted that GreenFields have come on board as a sponsor, as a small community club it is vital for us to have partnerships with businesses to enable us to function successfully."

Rob Fuller, Chairman, Avro FC
Completed in Summer 2017 at dual use facility, the Vestacare Stadium (Oldham, Manchester) the GreenFields Slide Max Pro 60 3G pitch is being used by Avro FC as well as Oldham RLFC who have been able to return to the ground as the new pitch now meets the stringent requirements of the Rugby Football League which the old surface failed to do. GreenFields Slide Max is an extremely resilient product, perfect for pitches that experience high usage levels whilst also providing a professional, high quality playing surface.
The project led and funded by Oldham Council also includes a natural grass pitch and will see the new pitches utilised all year round benefitting the local community with hire availability each evening.