13 Jun 2018
Huge Success for First EVO STIK NPL Stadium Development Seminar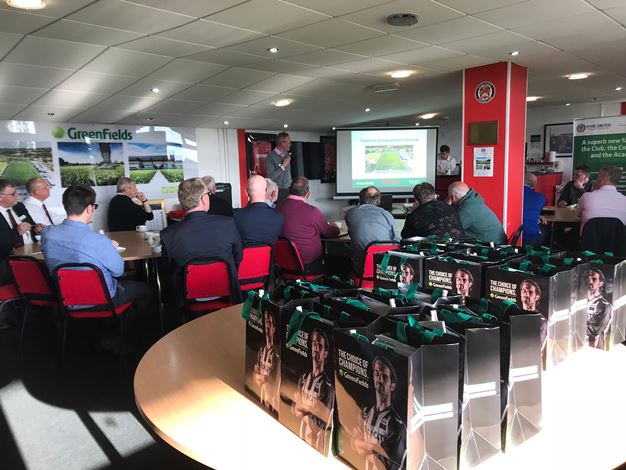 Coming to the end of the first year as EVO-STIK Northern Premier League Official Pitch Partners, GreenFields have hosted our first Stadium Development Seminar for NPL clubs. A total of ten clubs attended the event on Thursday 17 May at Ewen Fields, home to newly promoted EVO STIK NPL Premier Division Club- Hyde United FC.
The main objective of the seminar was to support NPL member clubs on their journeys to developing their stadiums- whether it be the pitch or other surrounding entities such as a new stand. At the event, GreenFields officially launched their new partnership with funding experts, Sedulo as well as teaming up with the league's architectural partners, Frank Whittle Partnership (FWP). The event focused on how clubs could upgrade their grounds with funding experts Sedulo on hand to talk about the funding routes available to NPL clubs, whilst FWP outlined the most up-to-date services they offer covering everything from architecture and project management to structural engineering and interior design.
"We were really happy with the event and turnout of clubs. The seminar worked well in conjunction with the funding experts Sedulo and the EVO-STIK League architectural partners at FWP. Thanks to everyone who attended and to the Northern Premier League themselves for support with the event."

Louise Henderson, Marketing Manager, GreenFields UK
New in post at GreenFields as National Sales Manager, Andrew Lovell talked clubs through their surface options, outlining the difference between standard tufted and high-tech woven carpets. With a GreenFields MX woven pitch in situ at the seminar venue, the clubs had the chance to not only look at the surface but to pick the brains of Pete Ainger, the club's General Manager on the benefits of having the pitch in particular the increased revenue gained from the additional playing hours. Pete commented: "Coming to the end of our second season with the 3G surface, I can say with certainty that it has proved its worth both in terms of Club and Community benefits. It allows us to make full use of the stadium seven days a week, operating a DOE-approved Academy education during the weekdays, school and community sessions plus some commercial usage during most evenings and weekends; that will continue throughout the summer months too. The skill, expertise and customer service from GreenFields has also been excellent. The quality of their surface is without question and tested annually to FIFA PRO quality standard; thankfully a waterlogged pitch for us is now a thing of the past!"
With the seminar now complete, GreenFields are getting ready to unveil the top natural grass pitch in each of the NPL's three divisions at the end of season awards taking place this coming Saturday 16 June. Watch this space for the announcement of the winners of the first EVO-STIK NPL Pitch of the Year Awards!